You know how you just feel a small painful tweek when you see an item of clothing coming back that you can remember wearing.
Maybe it's because that when that phase was over and you'd safely progressed to the next phase, you realised how hideous you actually looked, and you'd promised yourself never, ever to go back there. I'm thinking shoulder pads, I had some beauts and for a short person, I was never able to channel that Melanie Griffith Working Girl kind of look. I pushed my sleeves up on my blazers and wore white t-shirts under them (I'm thinking Kelly McGillis - Top Gun - I loved her look). I had jodphurs, which I know must have made my bum look massive, and in fairness to my Mum, she never said as much (but your eyes told a different story Mum). I wore huge neon oversized Tshirts (hello Frankie!). I had the frilled neck shirts (Lady Di has a lot to answer for). I wore desert boots (although my grey one were way too big for me and I always lusted after my friend Katie's red ones). I wore cut off shorts with my camel Timberland boots (once again the shoes were a size too big, and truth be told, I was probably a size too big for the cutoffs).
So many fashions on one big ol' rotating cycle thing.
You know when fashion gives a hint of a return - say for example - leggings. I am like NO FREAKING WAY!!!! I did NOT look hot in these as an 18 year old, there is no WAY I can possibly look hot in these as a 40+ year old. It just cannot be feasibly possible. I resist. I resist. I watch others. I pensively start toying with the idea. I have legging envy. The shutters start to come down and a film comes over my reasonable thought. I start imagining my legs looking infinitely slimmer in black leggings (I like to think of it as fashion dysmorphia). I buy a cheapie pair. I buy another. Suddenly I am a legging wearing 40+ year old mother of 3. (But I absolutely draw the line at jeggings. Never.)
So today I am at the shops, casually looking for a dark blue denim sundress (ok, I start off on a specific quest only to get waylaid by floral sundresses, maxi dresses, harem pants.....) I actually was suppose to be shopping for a bikini but that really should only be done on the tail end of a new haircut and 5 day detox, so on my bad hair, bad body day, I decided to shop for more forgiving clothing.
Then I saw them.
Dungarees.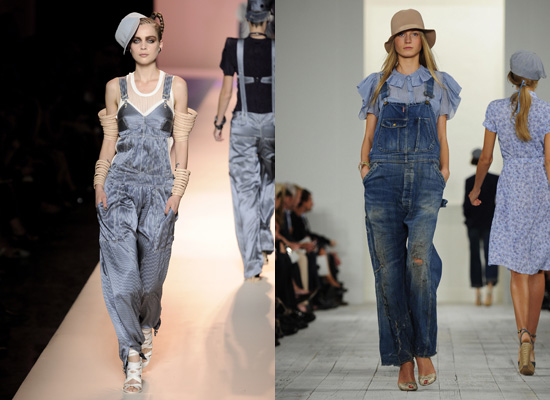 1994-1998.
My dungaree era.
I'm still angry at my friends, family, the first husband and the second husband, and the general public at large, that noone had the balls to actually tell me that the cool quirky look I was imagining when I wore my long black dungarees, striped top and big black clompy boots was anything but cool and quirky. I knew the show was over when I wore my short denim dungarees to a wine festival and my ex-husband was there with his new glamorous fiance (wearing skinniness, tallness straight hair, a giant diamond and a massive and impossibly cool large brimmed floppy hat). We chatted. I felt every bit of my dowdy, frumpy self. Thankfully we were at a wine festival and the pain was quickly dimmed.
Still.
So a plea. Please help me.
Please don't let me go back to this one.
Please save me from myself......